The Florida Keys SPCA is now proud to present our Dogwood Wellness Clinic and Spay & Neuter Services for our community and animals. Please see our all of our services below.  We look forward to helping your pet maintain a healthy life!
We are excited to be able to offer a Wellness Clinic to the public that can help care for the pets in our community!  Please see our upcoming dates and times below, along with the services we offer and the prices for those services.
All of our Wellness Clinics do not require appointments, but we do ask that your dogs are leashed and other animals are in a carrier when you arrive.
for questions please email the medical team at clinic@fkspca.org.
Upcoming Clinic Dates:
All Wellness Clinics are from 10am-2pm
Key West Campus-

Bahama Village in Key West, 115 Truman Ave-
Big Pine Key Dog Park in Big Pine Key, 30150 South Street-
Marathon Campus-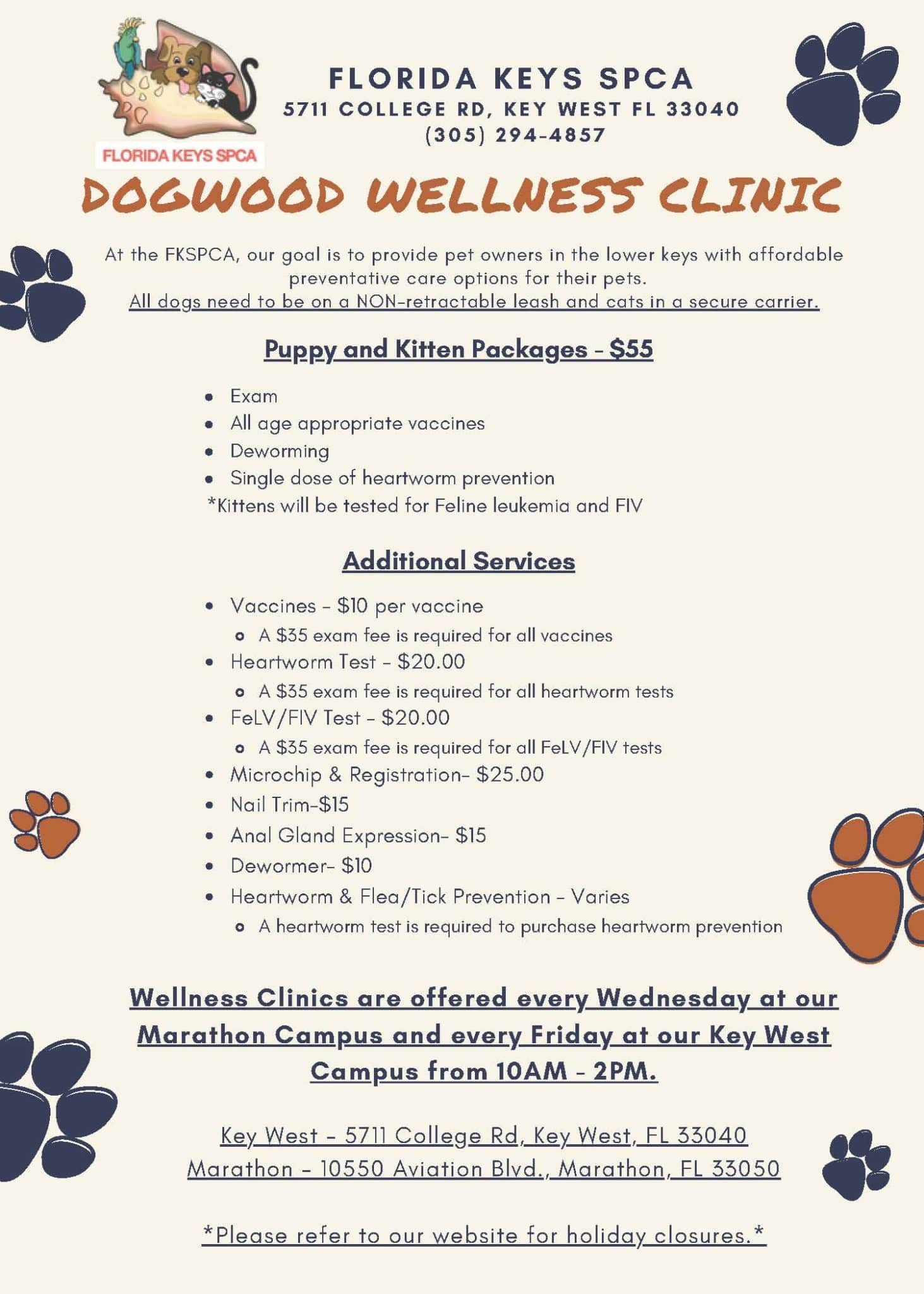 Spaying and Neutering our pets is the most important step we can take to address of overpopulation in our community and help reduce the number of animals in the shelter.
We are proud to offer a Spay & Neuter program that has helped this community by altering thousands of animals which is possible from donors and community partners who support our mission.
Please see our services we offer in our Spay & Neuter Clinics & the prices associated with these services below.  Spay and neuter services are available by appointment only.
To make an appointment for a Spay/Neuter appointment please contact the medical team directly at clinic@fkspca.org.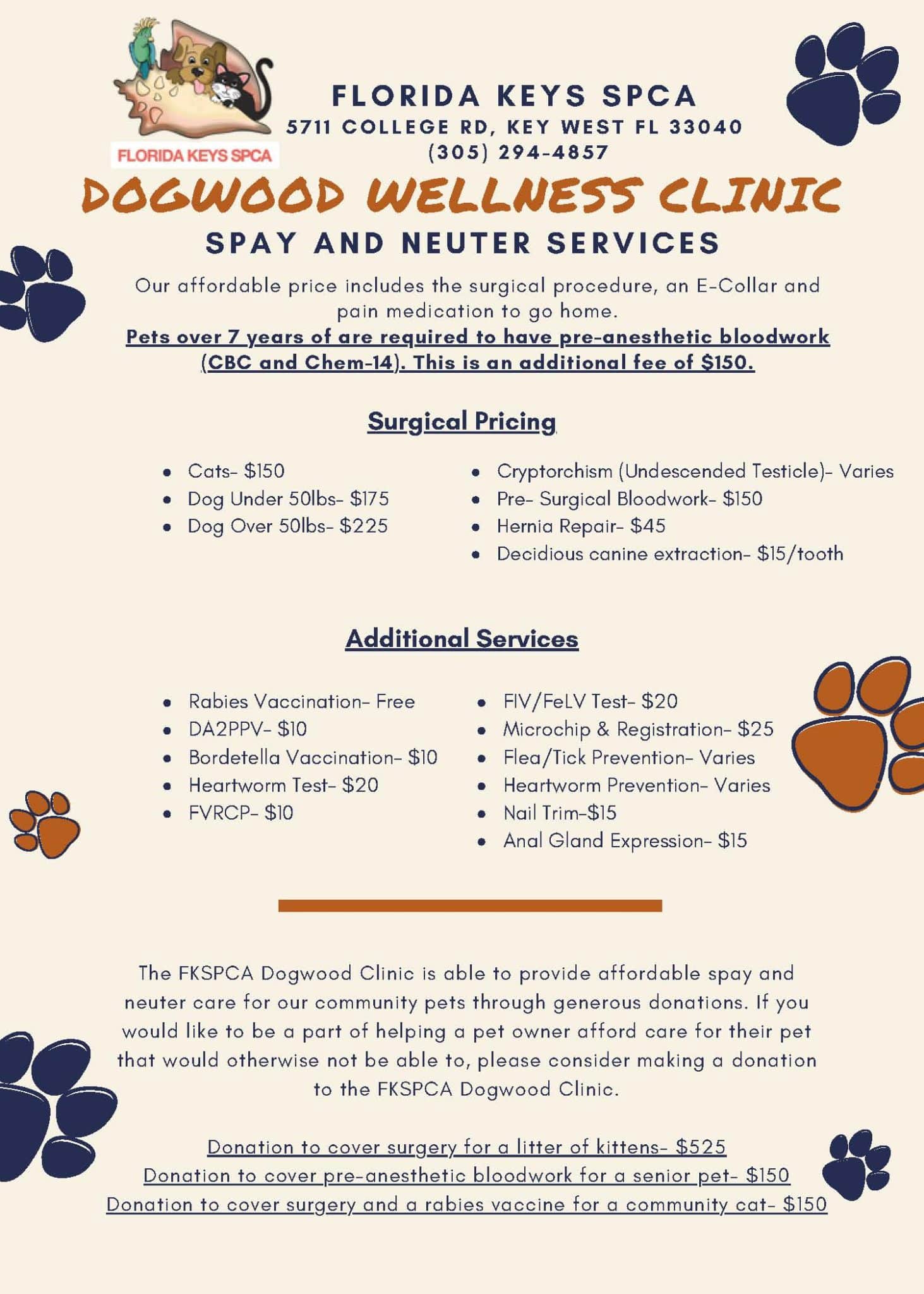 Trap Neuter Release Program
T-N-V-R
We offer free Spay & Neuter surgeries for feral cats through our Trap-Neuter-Vaccinate-Return program.
Community members between mile markers 0 and 70 are eligible to have feral cats spayed and neutered through our Trap-Neuter-Vaccinate-Release (TNVR) clinic at no cost.
TNVR services are available by appointment only. To schedule a TNVR appointment, the trapper must come to the Florida Keys SPCA during office hours to fill out paperwork verifying that the cat is their responsibility or they have permission from the property owner were the cat is located. The trapper should be prepared to humanely house the trapped cat overnight before surgery in a warm and enclosed area.
Feral cats CANNOT be dropped off and held at the shelter before surgery day.
Humane traps can be rented at the shelter, depending on availability, for up to 2 weeks. To rent a trap, a refundable $75 deposit is required.  
On the day of your TNVR appointment, check in time will be between 8:30 and 10:00am. Things to keep in mind before check-in:
Cats MUST arrive in a secure trap, NOT a carrier.
No glass or breakable objects in the trap.
Cats will be altered, given a rabies vaccination and their left ear will tipped.
Trappers will be notified when surgery is complete and cat is ready to be picked up. Cat must be picked up the same day as surgery and cannot stay at the shelter overnight.
If you have any questions about these policies and procedures, please contact the Clinic staff directly.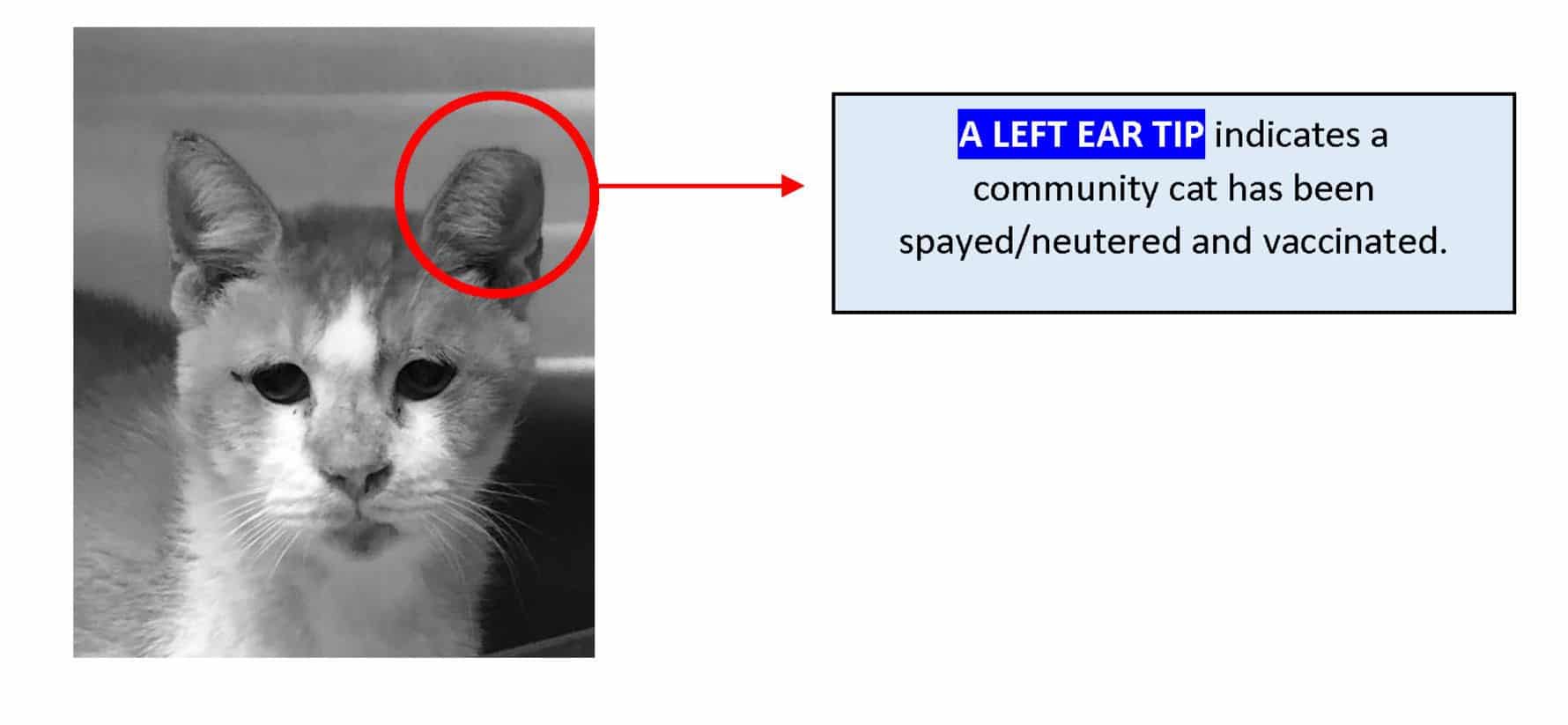 Pre Surgical & Post Surgical Instructions
Pre and Post Spay & Neuter Clinic Surgery Instructions:

PRE SURGERY:
The Night Before Procedure:
Give your pet their food around 8 pm and then DO NOT give ANY food to your pet after 10pm.  (This includes treats)
Water may be available overnight, but should be removed first thing in the morning.
Cats should be kept inside overnight and provided with a litter tray.
The Morning of the Procedure:
Do not feed ANYTHING in the morning. This is to reduce the possibility of vomiting whilst under anesthetic.
Give your dog the opportunity to go to the bathroom before bringing them into the clinic.
Make sure they are clean and dry prior to admission. This can help prevent wound infections.  
Upon check in you will be asked to sign an anesthesia consent form. You can download and pre-fill this form HERE in order to save time. Please read this form carefully and advise us of any other treatment services you would like while your pet is under the anesthesia (Micro-chipping, nail trim, vaccinations and heartworm test).
A Rabies Vaccine will be required unless you can provide documentation of a current vaccine.
Pre-Operative Blood Work:
Pets over the age of 5 years old are required to have a pre-anesthetic blood work. These tests allows us to make sure your animal does not have any pre-existing problems, like liver or kidney issues, that we may not be aware of. These tests also assess their red blood cell count to ensure they are not anemic and can safely undergo this procedure.
This is at an extra cost of $150 and includes an IV catheter placement with IV fluid therapy during the procedure.
---
POST SURGERY:
Normally pick up time is near 4-5pm the day of surgery. We will confirm this time the day of surgery.
Some animals may be active after surgery, while others may not be.  Either way, it is very important that you limit your pet's movements for the next 7 to 10 days. Strenuous activity, such as running or jumping, could disrupt the healing process and cause the incision to become swollen or open.
After surgery, your pet's appetite should slowly return within 24 hours. You may give them a small amount of their regular food at night after their surgery. Water should always be available.
Do not change your pet's diet at this time.  Do not give them additional treats or "people food."
Patients' reactions to surgery can vary.  If your pet is lethargic (lasting for more than 24 hours after surgery), or there is excessive vomiting and diarrhea that is NOT normal, you should contact your veterinarian.
If your pet is given an E-Collar (cone) after surgery, do not remove it for feeding unless you are able to supervise them.  If you do remove it for feeding, replace it immediately after your pet has finished eating.
Dogs and female cats have internal sutures. These will dissolve and you do not need to return to have any removed.  Male cats do not have any sutures.
Do not bathe your pet during the recovery period of 10 days or apply topical ointment to the incision site. Pets must be kept indoors where they can stay clean, dry and warm.  Dogs can be walked on a leash to relieve themselves but then should be brought inside right after.
In the case of an emergency please contact your personal veterinarian.
To schedule an appointment for our Spay & Neuter Clinic or for questions regarding our Wellness Clinic please contact our office directly:
By Phone: (305) 294-4857
By Email: Clinic@fkspca.org
In Person: 5711 College Rd, Key West