Foster Program Saves Lives
The Florida Keys SPCA's Foster Program provides an alternative to animals that need special attention to recover from an injury or to thrive, and it provides safe housing for an animal during a hurricane or natural disaster.
An Immediate Answer to Life or Death.
Orphaned kittens in the first days of life are completely dependent on their mother. Without her, the chances of survival decrease.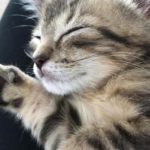 Acting as surrogates, our foster parents provide nourishment, grooming and love. The foster program saves lives and we are grateful to each one of our Foster Program parents for the love and dedication they provide.
Fosters Needed During a Hurricane Evacuation.
The FKSPCA must evacuate the shelter in Key West for storms rated a Category 3 and above. The Marathon shelter must evacuate for storms rated Categoy 1 through 5. By fostering an animal during this time, you help keep that animal alive, and enable the FKSPCA to make space for animals that are left behind, which inevitably happens.
Animals may be placed in foster homes for a variety of reasons: illness, injury, too young for adoption, and more. We supply the resources, you supply the love!
If you are interested in becoming a foster parent, contact Tiffany Dunsmore in Key West at tiffany@fkspca.org, and in Marathon, contact Tara McFarland at tara@fkspca.org.