Welcome animal lovers; what is POSH?
POSH – Paws Often Steal Hearts, the Sunset Social Drinking Club formal where islanders get dressed up, ladies adorn fascinator hats, and we eat, drink, dance, and raise money for the FKSPCA.  This year's entertainment is SUENALO!, an in-your-face band with a horn section that plays Latin, swing, jazz, afro, funk, rap that will knock you on your ass!
This is our 8th Annual event.  In 2019 the 7th Annual POSH raised 23K for our furry friends.  We strive to beat that number, and we can with your help.
POSH is held at 205 Whitehead Street at the Audubon House & Tropical Gardens.  We commence with a New Orleans style 2nd line to the after-party at the Green Parrot at 9:30 pm.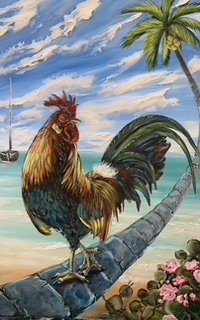 This year GumboCoolio.com is sponsoring local artist Lance Berry, who is painting live at POSH with an online live auction.  Folks can bid online for this piece, and 100% of the proceeds benefit the FKSPCA.
Lance goes live at POSH on December 1, 2021, from 6:00 pm to 9:00 pm Eastern time at the POSH event.  You can bid on his masterpiece at https://posh.fkspca.org
Click here now for your POSH tickets https://fkspca.ticketleap.com/posh-8th-annual-2021/
Questions regarding POSH, please call Ben Hennington at 305.304.1232 or purchase your tickets immediately at https://fkspca.ticketleap.com/posh-8th-annual-2021/
$45 in advance or $50 day of, gets you a complimentary welcome beverage, tapas-style dinner, entertainment, and 100% of all proceeds go to the FKSPCA.
Please join us for the classiest event in Key West, POSH style, baby!
Please visit our sponsor. GumboCoolio's website.
During this year's POSH event, artist Lance Berry will be painting a work to be auctioned off.  You can watch live in the video player below.  You can bid on Lance's art creation by visiting the POSH auction site .  https://app.galabid.com/posh-fkspca