After finding his furever home in 2020, sadly Olly was returned to the Marathon Campus through no fault of his own.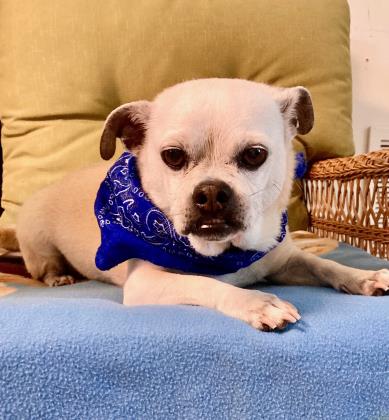 At 10-years-old, Olly the Puggle mix has twice been surrendered to us as his owners could no longer keep him because of landlord issues. Olly is a special case dog that will need a special home to live out the rest of his days.
While Olly may suffer the effects of old age  (he is demonstrating some dementia, has a minor cough, and is losing his hearing and sight) none of this impedes his quality of life.  He is a loveable senior that is a different dog when he's outside on a walk and he still enjoys his toys.  Olly may be nearing the end stages of his life, but he still has lots of love to give. He will need a home willing to have patience and provide him with a nice, comfortable environment for the time he has left.
Until then, your sponsorship will help pay for Olly's medications and support him until he's found his forever family. 
Your donation today to our Sponsor a Pet Program will ensure that Olly and all the Sponsor animals, receive the medical care and compassion they need, while we find each animal their furever home.