After Minnie and her entire family were surrendered to our shelter, we have the task of creating safe housing for each of them until they are adopted.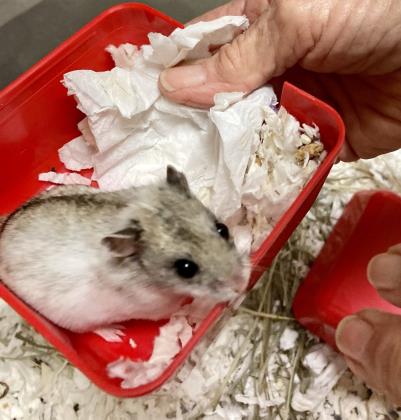 Minnie and her family were surrendered to us and we want to give them the best chance possible at a new life. Hamsters may be tiny, but no less deserving of a comfortable and happy life. Since hamsters are prolific and sometimes territorial, they often require separate housing to prevent fighting and breeding. This means Minnie and her family will need multiple cages, multiple exercise wheels and chew toys, multiple dishes, and appropriate bedding and food. 
Become FKSPCA'a first ever " Hamster Hero" sponsoring Minnie and her family! Your sponsorship will help support all their needs until they find their furever homes!
Your donation today to our Sponsor a Pet Program will ensure that Minnie & her family, and all the Sponsor animals, receive the medical care and compassion they need, while we find each animal their furever home.