Kitty Kat, a 9 year old senior, was surrendered to us after her owners moved and is looking for a family to spend her golden years with.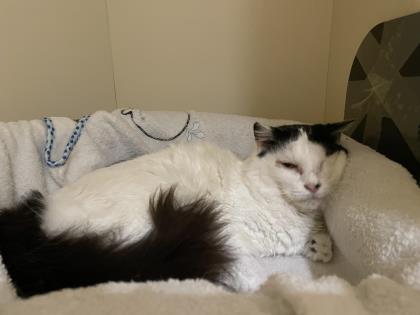 Kitty Kat adopted her previous owners and lived indoor/outdoor on their property. They ended up moving and could not take her with them and surrendered Kitty Kat to us. We discovered her eye was not doing well and causing her pain. After visits with a vet we discovered it was not operational and removed the eye altogether.
Because Kitty Kat is a shy older cat, she is housed in the cat condos by herself but that does give her less exposure to adopters.  She would love a quiet home on her own and until then we are taking care of her daily and medical needs. Your sponsorship will directly help Kitty Kat until she finds a home of her own.
Your donation today to our Sponsor a Pet Program will ensure that Kitty Kat, and all the Sponsor animals, receive the medical care and compassion they need, while we find each animal their furever home.