Gobi has been waiting for a home since he came to us as a kitten in 2020, but his health condition has prevented him from finding his furever home.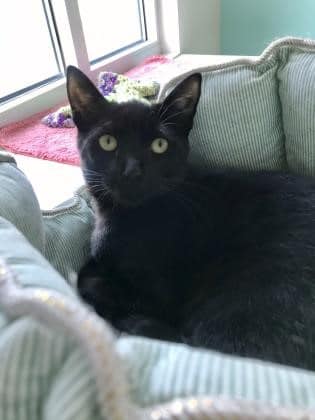 Gobi is a 1.5-year-old domestic shorthair that has been at the shelter since he was a kitten, in late October of 2020. He is a spry and playful young guy who unfortunately has an autoimmune disease called Pemphigus Foliaceus. Pemphigus is the most common autoimmune skin disease of cats.
Pemphigus causes crusts and ulcers around the eyes, ears, footpads, groin, and bridge of the nose. Lesions will develop at the toenail beds causing crusty feet. With proper management, this autoimmune disease can be managed well with the occasional flare-up. Gobi has not let his condition stop him from being a happy, outgoing cat even though on occasion he will have a flare-up that needs a strong regimen of steroids and antibiotics. Even with this condition, you can find Gobi lounging in the lanai of his free-roam room soaking up the sun.
Your sponsorship will help give Gobi with his medical needs from this disease, as well as his day to day care while he waits for his furever family.
Your donation today to our Sponsor a Pet Program will ensure that Gobi, and all the Sponsor animals, receive the medical care and compassion they need, while we find each animal their furever home.